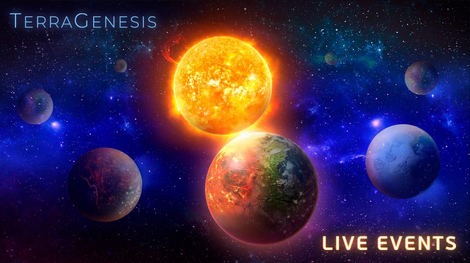 Live Events are limited time events that happen from time to time in TerraGenesis. When a live event is happening, an icon guiding you there will appear on the right side of a world's home screen, in the same row as the TG store icon and the Fast-Forward icon.
Clicking that icon will lead you to a world with a pre-set difficulty and faction, and different priorities (now called milestones) than normal worlds. Completing these milestones will give you some rewards that can be used on other worlds as well.
You cannot fast forward event worlds.
If you are actively playing the event world while the timer runs out, you receive a message that says that the event is over and you are sent to your most recent file of that world. The event world disappears.
Event worlds sometimes start with neutral Culture values, but they do have the Culture restriction of the faction you play with.
You can see the list of milestones for an event by clicking the same icon that took you to the event world, but when you are already on the event world.
When you've completed a milestone, click that same icon again. The milestone you have completed will flash. Click it, and then click 'collect'.
Community content is available under
CC-BY-SA
unless otherwise noted.